About Vibrant Soul:
VibrantSoul.com and VibrantSoul e-zine are intended to bring about discussion and collaboration for the spiritual enlightenment of human beings. By participating in this community, we transcend global, political and racial constraints; we help enable beings to realize their life purpose, and we create a better collective consciousness for the good of this planet and all of its life forms.
VibrantSoul accepts the following unsolicited content:
~ Letters to the Editor
~ Original Essays and Poems
~ Original Cartoons and Artwork
~ Practitioner Whitepapers
~ Personal Stories of Spiritual Awakening or Transcendence

Contact us today to express interest in participation, or participate in our Topic Blog. vibrantsoulcom@gmail.com
All unsolicited or Topic/Blog content becomes the property of VibrantSoul for non-exclusive publishing of content at no cost to VibrantSoul. The editors at VibrantSoul may contact you and request changes for length, grammar, sources or other edits. You retain all ownership and copyrights to your content.
If you are interested in a paid writing position with VibrantSoul, please submit 2 sample published works, along with a brief writer's bio and your contact information.
VibrantSoul.com is non-denominational, however is intended for those interested in creating a loving environment with others and in the sharing of spiritual experiences for the betterment of mankind. As such, comments that seek to hurt rather than help will not be allowed on the site. Hurtful comments include hate language and obscenities as well as other content deemed to be unsuitable at our editors' discretion. Objectionable content will be removed from our Topics/Blog.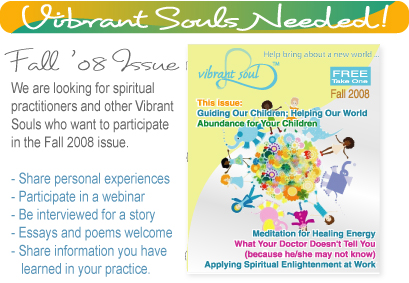 Editorial Calendar for Fall 2008:
Guiding our Children; Helping our World - How our childrens' collective consciousness can help build a new future
Abundance for Your Children - Help your children apply the laws of abundance at home and at school
Meditation for Healing Energy - Insights on how to use meditation to heal yourself and others
What Your Doctor Doesn't Tell You - Are we headed for a pharmaceutical armegedon? How the collective negative trends in the American pharma machine is killing our loved ones for fun and profit, and what we can do about it
Applying Spiritual Enlightenment at Work - Is it really possible to be present? And how do you transend the effects of ego when you are in a critical environment or when dealing with the public?

In alignment with our pro-planet value, beginning with the Fall 2008 issue, VibrantSoul will only be available online. Only $5.49 a year delivers you 4 great quarterly issues full of information to feed your soul. The VibrantSoul e-zine is delivered via an email link so that you may choose to store the PDF file on your computer or read online.
But don't forget! VibrantSoul.com is always online, and our topics/blog section benefits from your comments, ideas and inspiration, so come back often!
Subscriptions will start with the first quarterly issue available after your payment is received.
Why Gmail?
People have asked us why we are using gmail when we've got our own domain accounts and emails. The folks at Vibrant Soul were early Google adopters. Google search engine, Google Desktop, AdWords... you name it; we were there. Now we use Google Docs as our primary way to collaborate on stories and pictures. By utilizing Google as part of our infrastructure, our workproducts transcend what choices we may make for hosting servers, email clients and more.
Gmail allows us to better organize our discussion and email threads by automatically categorizing our content for us -- saving us time and making us more efficient. Workproducts stored on Gmail servers are backed up and redundant, saving us not only workspace, but backup storage of our content.
We recommend that you consider Gmail and Google Docs as part of your infrastructure.